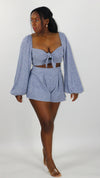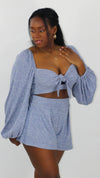 Crop top set with shorts-blue
We love sets! Outfits that make it easier to get dressed. Wear to brunch, shopping, day party, girls night, bbqs, e.c.t.  
Wear as separates also, pair top with any existing bottom in your closet ( jeans any style, shorts, wide leg pants,skirts).
Relaxed style shorts with a elastic waist band ( pair with fitted polo tops, oversized tees, sweatshirt, button down tops, e.c.t ).
The blue color makes this a easy addition to any closet, and we are sure you have shoes that will complete the look. If in doubt can't go wrong with white ( sneakers, flats or heels).
Set Features:
Crop top with working  front tie 
Top with elastic band that allows stretch 
Sleeves have elastic that keeps them on your shoulders but can be pulled down for an off the shoulder look.
Shorts have elastic waistband for stretch. 
Relax fit.
*Model wearing size Small*